MASTER TEACHERS
RDW's World Class Guest Instructors
Royal Dance Works welcomes some of the biggest names in dance to teach at the studio.
Mia Michaels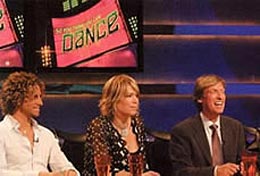 Mia Michaels has turned dance into inspired and unique works of passion and beauty. She has rendered her singular style and vision of the craft for other artistic innovators from celebrities and recording artists to dance companies and educational institutions. Mia's choreography for Celine Dion's A New Day at Caesars' Palace in Las Vegas has received stunning reviews. The New York Times raved, "The greatest pleasure…was the go-for-broke physicality of the choreography."
Currently her work can be seen on Cirque du Soleil's first touring show, Delirium , which premiered March 2006. She has also created works for numerous recording artists including Madonna, Ricky Martin, Gloria Estefan, and Prince.. Her work in film and tv includes "Cool Women" for AMC/DreamWorks Television and award-winning commercials for Mike's Hard Lemonade, Bacardi, Coldwell Banker, Ziploc, the WNBA, Star TV and VISA.
Mia has also been commissioned to create work for Les Ballet Jazz de Montreal, Jazz Dance Chicago, and Oslo Dance Ensemble. She's been off-Broadway with If These Shoes Could Talk and Fort Chaffee. She has a way of touching people's lives with passion, emotional expression and style of dance. See her on the past two hit runs and the upcoming season of "So You Think You Can Dance" on FOX!
---
Brian Friedman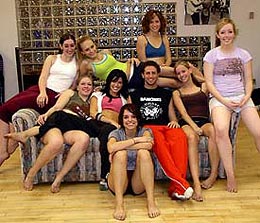 Brian Friedman, artist and trendsetter, is one of today's hottest directors for today's most popular concert tours, music videos, commercials, and film. Friedman has choreographed some of the most groundbreaking music videos and performances such as Britney Spears "Toxic" and "Slave 4 U," "The One" by PRINCE, *NSYNCs "Dirty Pop," and many more for such artists as Beyonce, Usher, Pink, Brittany Murphy, Hilary Duff, and Christina Milian.
"When I teach at Royal Dance Works, I am not only re-energized, but also challenged in a way that only a few studios can do. The dancers give more than technique... they give heart, and soul, something that is only found with the best of training. I can't wait for my next opportunity to work with them again." -- Brian Friedman
As a dancer, his silver screen credits include Charlie's Angels, You Got Served , She's All That, Austin Powers Goldmember, Uptown Girls , and more. Friedman has also choreographed for countless television shows including Will & Grace , The Tonight Show with Jay Leno, David Letterman, The Ellen Show , Oprah, That 70's Show, MTV VMA's, VH1 DIVAS LIVE, and Billboard Music Awards. Brian has been nominated for four MTV Video Music Awards, two Music Video Production Awards and five American Choreography Awards. Friedman entered millions of homes as a judge and choreographer of the FOX hit show "So You Think You Can Dance." This TV season, he can be seen overseas, starring in Simon Cowell's hit UK show, Grease Is the Word.
---
Jackie Sleight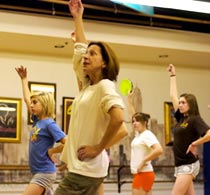 Jackie Sleight, artistic director and owner of LA Dance Magic, is a teachers' teacher. Jackie went from dancer to choreographer to director, all the while traveling the country teaching. She conceived the popular girl group, "A Sleight Touch" which opened for some of the biggest recording stars in the industry. They eventually became a headline act themselves, and traveled the world appearing before crowds of up to 32,000. She has trained and influenced many of today's working dancers. Jackie has worked with stars including Rod Stewart, Paula Abdul, Barry Manilow, Expose, Stacey Q, Yvonne Elliman, David Hasselhoff and Barbara Eden.
"Royal Dance Works provides encouragement, motivation, and excitement for their students... and for the parents of their students... peace of mind. Royal stresses teamwork, integrity and respect, all while bringing the latest, most cutting-edge styles. I love their energy!" -- Jackie Sleight
Jackie has also been the staff choreographer for several TV series' and her commercial list includes Burger King, Levi's, McDonalds, Polaroid, Honda and more. Jackie's dance groups "A Sleight Touch" and "Boys' Club" each won seven shows and ultimately the Grand Championships, on the 80's television phenom, Star Search. Jackie was also the innovator of the fitness trend, "Freedance," that was taught in health clubs all over the country.
---
Wes Veldink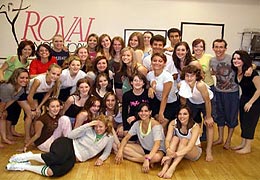 Wes Veldink, during his 10 years in Los Angeles, was a dancer, teacher, and choreographer working in film, television, stage, commercials, video and print. Credits vary from the movie musical Newsies, body doubling for Michael Jackson, and improvising live onstage with singer/songwriter Ani Difranco. In 1999 Wes relocated to New York City to start The Wes Veldink Movement, serving as artistic director. The company's first full-length evening of dance, Walking Through Walls, premiered in 2001 and enjoyed a successful tour in Los Angeles and Toronto. As a company, they have participated in numerous festivals in New York City and have presented work in South Korea for the International Jazz Dance Festival in 2003, 2004, and 2006. Wes and his company have been featured in Dance Spirit Magazine, European Dance News, and is the May 2006 cover of Expressions Italian Dance Magazine.
"I am so inspired by the artistic integrity, passion for dance, and commmitment to excellence that I have experienced at ROYAL DANCE WORKS. These dancers are a pleasure and a gift." -- Wes Veldink
Currently, Wes travels the world teaching and choreographing for companies and institutions including the Oslo State Ballet School and Oslo Dance Ensemble in Norway, the Osaka School of Music in Japan, the International Dance Meeting in Italy, the Dance Center in Amsterdam, Harmonique in France, and the Nadine Bommer Academy in Israel. In 2005 and 2006 he created and developed a ten-month intensive and mentoring program in New York City for young dancers aspiring to have professional careers. Recently, Wes choreographed supermodel Kate Moss in the international commercial campaign for NIKON cameras.
---
Jennifer Hamilton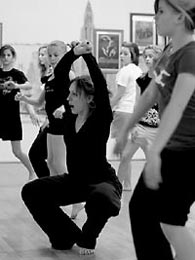 Jennifer Hamilton started dancing at age 4 in her hometown of Camarillo, California. Her training continued at various dance studios in Los Angeles, most importantly at Tremaine dance studio. That is where Jennifer took class and met Marguerite Derricks, her mentor. She was a part of her teen company for 4 years, and started assisting her professionally soon after. She has been blessed with working on numerous projects as a dancer, actress, assistant, and choreographer.
With about 30 films under her belt, Jennifer has worked with the likes of Mike Myers, on all three Austin Powers films and The Cat in the Hat. She is currently working on Mike's new film, The Love Guru with Jessica Alba. She recently just finished being associate choreographer on Spiderman 3 and Rush Hour 3 and just finished Step Brothers with Will Ferrell. She has worked with Ben Stiller on Starsky & Hutch, and on Meet the Fockers, which gave her the opportunity to also work with Dustin Hoffman and Barbara Streisand. Little Miss Sunshine was another one of her favorites that she finished being associate choreographer on in 2005. Jennifer helped Bernie Mac & Ashton Kutcher move in Guess Who?. Jennifer also enjoyed working with Cameron Diaz & Drew Barrymore on Charlie's Angels, and teaching Brad Pitt and Angelina Jolie how to tango in the highly talked about Mr. and Mrs. Smith.
"Your dancers are so supportive of one another. It's very energizing and inspiring. The Royal dancers always want to learn. You can feel their focus in class and their desire to soak up all the information they can. I love teaching students like that!" --Jennifer Hamilton

With more than a handful of commercials behind her, Jennifer has also had the opportunity of working on several stage productions. These include " A Class Act" at the Ambassador Theater on Broadway, the new erotic Cirque Du Soleil show "Zumanity", "Finian's Rainbow", "The Rocky Horror Picture Show" with David Arquette at the Tiffany Theater, and "Little Shop of Horrors" at the Alley Theater in Houston.
Jennifer is also currently a member of the L.A. Dance Magic Convention faculty.
---
Ron Todorowski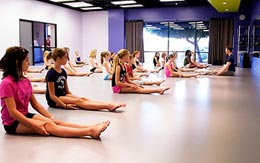 Ron Todorowski recently taught at Royal Dance Works, traveling from New York City where he performed the role of Eddie, on Broadway, in Twyla Tharp's "Movin' Out," for which he received the 2005 Helen Hayes Award for Best Actor in a Musical. He was also seen on Broadway in Tharp's "The Times They Are A Changin," "Footloose," Manhattan Theater Club's "The Wild Party," the Actor's Fund production of "Chess" with Josh Groban, and 1st national tours of Barry Manilow's "Copacabana," "Spirit," and "Cats" in Hamburg. Ron was part of the creation team for Celine Dion's stage spectacular, "A New Day" in Las Vegas, and was assistant choreographer for "Seven Brides for Seven Brothers" at the Lyric Theater in Oklahoma City. He has performed works by Dwight Roden, Twyla Thap, Ohad Naharin, David Parsons, Robert Battle, Mark Dendy, Taye Diggs, and Mia Michaels. Ron was last seen performing internationally with Complexions Contemporary Ballet under the direction of Dwight Roden and Desmond Richardson. He has also performed with the Cedar Lake Contemporary Ballet, The Parsons Dance Company, Dendy Dance, Dre Dance, Reality At Work, and many others.