DANCE STUDIO & CLASS INFO
Dance Classes Offered At Royal Dance Works
PROFESSIONAL DANCE INSTRUCTION
Our professional teaching staff offers up to 14 levels and over ten types of dance to best develop each dancer's individual interests and potential. The 16-member faculty, with diverse styles and yet complimentary techniques, nurtures the students' talents in a disciplined, yet caring environment. These nationally renowned instructors, many of whom possess degrees in the performing arts and teaching, continually further their own education to bring the newest and best to Royal Dance Works.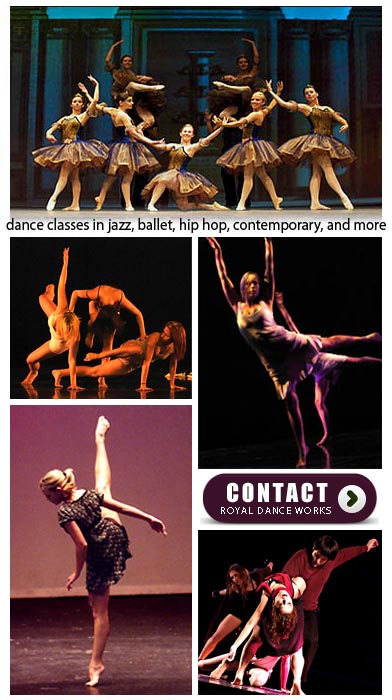 OUR REPUTATION FOR QUALITY
Royal Dance Work's reputation for quality is best exemplified in the success of the advanced dancers. Students have won five national championships, scholarships, and Star Search. Recently, our Senior Company was selected from a wide field of regional competitors to perform on the stage of Radio City Music Hall in New York City. Many graduated dancers have gone on to professional careers in Los Angeles, New York City, and Las Vegas. In addition to national appearances, our dancers have performed in England, France, Italy, and Australia. Our dancers have gone beyond technique to demonstrate a style and passion for dance that has earned them a reputation for excellence.
INSPIRING MASTERS TEACHERS
In providing for continual growth for our students, each year, international master teachers visit Royal Dance Works to instruct and choreograph. In the past few years we have had the privilege of working with Mia Michaels, Brian Friedman, Wes Veldink, Jackie Sleight, Doug Caldwell, Justin Giles, Cory Finn, Jason Parsons, and others. Each teacher brings their own style and energy, all motivating our students to excel.
FOSTERING A LOVE OF DANCE
Along with providing quality for our advanced dancers, Royal Dance Works is about the love of dance for all levels. Three-year olds delight in active adventures that train both their bodies and minds. Eight year olds learn to express themselves while improving strength, flexibility, grace, and co-ordination. Teens experience an environment of excitement, gaining self esteem and a positive social circle. Adults find an alternative to aerobics, relive childhood dreams to dance, and renew their appreciation of the Arts. In addition, male dancers and athletes interested in improving their athletic skills build strength and flexibility. Over and over, parents have expressed that Royal Dance students have the confidence which enables them to excel at school and in leadership roles.
THE STUDIO FACILITY
Free-floating, injury-preventive wood floors in all five studios, a spacious lobby with coffered ceilings, a children's play area, and a comfortable lounge to welcome both parents and students alike. Behind the scenes, an organized, computer-trained office staff, under the direction of Becky Derendal, deal with the business at hand, and are never too busy to answer a question or help a student.
ANNUAL RECITAL
The commitment to excellence is never more evident than in our annual dance production. Incredible lighting and stage effects, creative ideas and choreography, dynamic music, and variety always entertain friends and family alike, making this show more than a recital, but an evening to remember. While all the energy is focused on-stage, busy staff and volunteers organize dancers backstage so that entrances and exits run smoothly, young children are properly supervised, and parents can relax and enjoy.