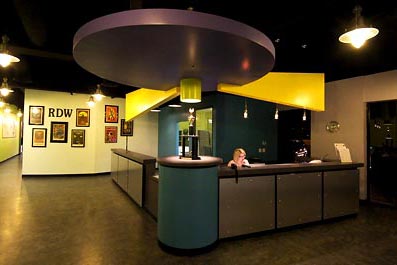 The best dance school in Phoenix has gotten even better, as we've recently doubled the size of our studio. The new expansion was a lot of hard work — we couldn't have done it without everyone's help. We made major changes, completely redesigned the interior, and now have five new spacious dance rooms, all with floating floors of maple, oak, and marley, plus a student lounge and kid's play area. Our wonderful new facility opens many new possibilities for our dancers. We've also expanded our SCHEDULE and added ADULT DANCE programs. See you at RDW soon!
THANK YOU TO ALL THE INCREDIBLE PEOPLE WHO HELPED MAKE THIS AMAZING DREAM COME TRUE.
Instrumental in design and follow-through:
Diane Powell and Dusty Curtis (architect)
General Contractor: Jim Wahlers, Wahlco Construction (rdw performance company father)
Electrical Contractor: Alex Fil (also a rdw performance company father)
Dan Bottiglieri, Wendy Bottiglieri, Bianca Bottiglieri, Lupe Espinoza, John Germinaro, Char Fischer, Keith Rachel, Jamie Mitchell, and Tracy Mitchell
Susan & Tom Allen, Jackie & Brett Benton, Jean Kenney, Meghan Kenney, Rosemary Beyer, and Jaci Royal
Missy Baum, Maria Burrola, Kathi and Pete Bertenshaw, Maria Faciano, Leslie France, Wayne Keith, Leslie Kelly, Chris Kilduff, Debbie Kent, Marco Leal, Carmen LoCurto, Sandra Miller, Kelsie Mitchell, Taylor Mitchell, Adam Moss, Joe Moss, Maribeth Myers, Shari Patinella, Tony Suski, and Chris Wakimoto
+ THANK YOU for your SUPPORT and HARD WORK +
Carole Royal cuts the ribbon as the new Royal Dance Works studio officially opens after many months of remodeling. Our state-of-the-art facility is an amazing accomplishment that was only possible through the hard work, love, and dedication of many wonderful people. Our dancers are certainly enjoying the new atmosphere. If you aren't enrolled yet, we're expanding our CLASS SCHEDULE including an ADULT DANCE program. Hope to see you at RDW soon!